Champagne News | Sparkling Wine News
---
English sparkling wine is now a global player, go get some English fizz for summer!
The problem about these endless "awareness" days and weeks is that it's all too easy to miss them. To those of you who were expecting a piece on English wine in the runup to last month's English wine week, all I can say is, "Sorry, totally passed me by." But obviously that doesn't mean I can't write about the stuff now, especially seeing that next week marks the start of that all-English sporting occasion, Wimbledon.
Not having been for years, I have no idea what Wimbledon offers at its catering facilities these days, but it should by rights be doing its bit to promote English wine. Especially fizz, which is getting better every year. The latest releases, many based on the excellent 2010 vintage, picked up an impressive 14 gold medals in the 2015 International Wine Challenge; it was good, too, to see some new names alongside pioneers such as Gusbourne and Nyetimber.
One good example is Court Garden, near Ditchling in Sussex, which won a trophy for its elegant, creamy, 100% chardonnay Blanc de Blancs 2010 £24.95 South Down Cellars, £25 Butlers Wine Cellar; 12% abv). I also love Court Garden's rich Ditchling Reserve (£29.95, same stockists; 12% abv), a weighty blanc de noirs (a sparkling wine made with dark-skinned grapes). Also from Sussex, there's the rich, toasty Bluebell Hindleap Blanc de Blancs 2010 (£23.99 from the winery; 12% abv) which is one to drink with grilled lobster, if you're feeling decadent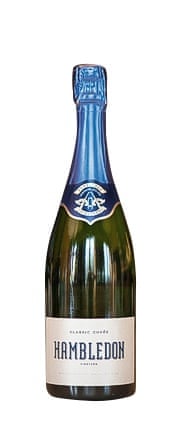 For a lighter, fresher, more canapé-nibbling and Wimbledon-watching style, try the crisp Hambledon Classic Cuvée NV (£28.50 Fareham Wine Cellar, or £26.95 from Berry Bros if you buy six or more; 12% abv), from Hampshire. It's an indication of how seriously English fizz is now being taken that Hambledon's winemaker, Hervé Jestin, used to be chef de cave for champagne house Duval Leroy.
Talking of the c-word, it won't have escaped your notice that these wines are not significantly cheaper than champagne, although English sparkling wine producers don't seem to slap quite as hefty a mark-up on their rosés as their French rivals do: the elegant, strawberry-scented Langham Estate Rosé (12% abv) from Dorset, say, is only £23, though it could easily pass for rosé champagne. Marks & Spencer has just taken it on in 18 branches.
The great thing about English fizz is that, as the vines mature, it's getting better and better. Most people would already be hard pushed to tell it apart from champagne, and I'm betting that in five to 10 years many of us will choose it for preference.
Source: Fiona Beckett, The Guardian
---
Royal Ascot 2015 by numbers: 2,900 lobsters, 51,000 bottles of champagne and 400 helicopters will descend on the racetrack
Michel Roux Jr Heads Up Judging Panel of Taittinger Prix Culinaire International in the UK
The winner of the UK competition will be chosen by Michel Roux Jr and announced by Champagne Taittinger's Marketing Director Vitalie Taittinger right after the cook off. All UK finalists will receive a Jeroboam of Champagne Taittinger and the UK winner will received €2,400, a trophy and a place in the international final which will be held in Paris on 23rd November.
The winner of the international final will receive €10,000; the runner up €4,800 and the 3rd Prize winner, €2,500.   All will win a trophy to acknowledge their success.
Lynn Murray, UK Marketing Director, Hatch Mansfield – UK sole agents for Champagne Taittinger comments, 'Gastronomy is a huge passion for Champagne Taittinger and this prize was established to pay tribute to the young chefs working at the highest level in their trade.   We are absolutely thrilled to have Michel Roux Jr as UK Presidential judge this year, himself is one of the finest chefs in the UK.'